Worlds in Transition: Governance Across a Stressed Planet
Joseph A. Camilleri and Jim Falk, Worlds in Transition: Evolving Governance across a Stressed Planet, Cheltenham, UK: Edward Elgar, 2009, xxii + 670 pp.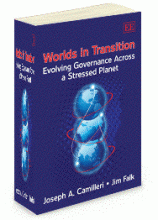 We are living through a unique moment of transition, marked by a frenetic cycle of invention, construction, consumption and destruction. However, there is more to this transition than globalization, argue the authors of this unique and penetrating study. In their highly innovative approach, they set this transition against a broader evolutionary canvas, with the emphasis on the evolution of governance. 

The book's detailed analysis of five strategic sectors (economy, environment, health, information and security) points to an intricate and rapidly evolving interplay of geopolitical, cultural and ecological spaces. It shows that the normative ethos and politico-legal institutions of the modern epoch are gradually being eroded. Despite competing trends and countertrends the authors discern the slow, at times ambiguous, often contentious but unmistakable emergence over the last several decades of a new governance regime, one which is striving for a leap in human reflexivity in response to the challenges of a stressed world that is simultaneously singular and plural.

This evolutionary and inter-disciplinary study of human governance in what is a remarkable moment of transition makes for indispensable reading. It will appeal to a wide international audience and will prove an invaluable reference for scholars, researchers and students of the physical and social sciences concerned with understanding the complexities of the current human predicament. Those working in the fields of international relations, economics, politics, security studies, political economy, environmental studies, cultural studies, and science and technology studies will find it especially useful. National and international policymakers will also find much to interest them.
Contents:
Preface
1. Introduction
2. Human Organisation: The Evolutionary Context
3. Governance in the Context of Human Evolution
4. The Modern Epoch and its Limits
5. Economic Governance
6. Governing Atmospheric Flows
7. A Defining Issue of Our Time
8. The Evolving Governance of Information Flows
9. Governance, Pathogens and Human Health
10. Globalisation of Insecurity in the Era of Hegemonic Decline
11. Towards a New Security Discourse and Architecture
12. A Holoreflexive Epoch in the Making?
Bibliography
Index