Reimagining the Future: Towards Democratic Governance
Joseph A. Camilleri, Majid Tehranian and Kamal Malhotra, Reimagining the Future: Towards Democratic Governance, Melbourne: La Trobe University, Department of Politics, 2000, xxxiii+101 pp.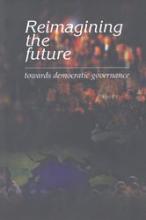 A report of the Global Governance Reform Project
Project directors and sponsoring institutions:
Joseph A. Camilleri, The Department of Politics La TrobeUniversity, Melbourne
Kamal Malhotra, Focus on the Global South, Bangkok
Majid Tehranian, The Toda Institute for Global Peace and Policy Research, Tokyo and Honolulu
Reimagining the future comes at a critical moment in the evolution of the world political economy and at a time when many of our regional and global institutions are at best precariously poised. 

The report, in the making for three years, involved numerous exchanges, a series of international meetings, and the support and advice of many experts and interested organizations from several continents. It offers a multi-faceted analysis of our current predicament, the obstacles that lie in the path of substantial reform, and the advocacy of a comprehensive and innovative approach to normative and institutional change. 

The report stresses the connections between economy and security; presents a holistic framework encompassing states, markets, and civil society; and makes the democratic ethic central to the reform agenda.
Contributors to the project        vii
Foreword             xi
Preface                xvii
Summary proposals        1
Part 1 Democratizing global governance            9
Part 2 Governance of global financial flows       33
Part 3 Global peace and security             59
A concluding note           97
Sponsoring institutions                99